Charters/Transportation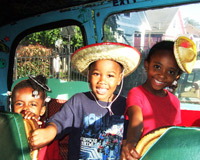 Charters are like renting out a giant, and much-more-fun limousine. In cultures where private autos are not so available, it is common for groups of friends and family to rent a bus for their outing. Everyone rides together, sings together, California dreamin'......!!!
Give a BUS MITZVAH!!!!!!
Charter El Volado for transporting your people to Bar Mitzvahs, Proms, Weddings, and...... We can provide great musicians and actors if needed on board for your event. Give us enough notice to book our talent.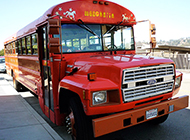 This rojo belleza flies around San Francisco spreading a mysterious good spirit that has been known to have permanent positive effects!
WEEKDAY CHARTER PRICE (Monday – Thursday):
Weekday rate/four hour minimum: $550
Friday before 5 PM: $550
Time overage weekday per hour or part of an hour: $75
WEEKEND CHARTER PRICE (Friday – Sunday):
Friday after 5PM: $800
Saturday: $800
Saturday ending before 5 PM: $650
Friday or Saturday Scheduled after 1AM: $850
Sunday day till 6 PM: $650
Sunday night: $600
Time overage weekday per hour or part of an hour: $100
MILEAGE RATES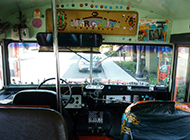 Charters outside the of City of San Francisco may include an additional mileage charge. See more pricing information
ALL CHARTERS:
If food or drink is brought on board, add a $100 refundable cleaning deposit. A check is sent to you the week after your tour. (Most people get this back.) If kegs or "jello poppers" are brought on you will most likely pay part of your deposit for the clean up.
CHARTER PRICE INCLUDES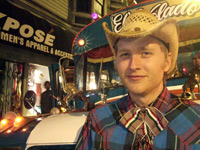 A driver and taped music provided by us. You are welcome to bring your own music. Charters outside of the inner Bay Area will be quoted according to times and distances.
For an additional cost: Charters may include a DJ host, food, refreshments, entertainment, and special planning. Please see extras.
Seating
"Margarita" Bus: 35 (plus 6 standees)
"Iguana" Bus: 38 (plus 5 Standees)
PAYMENT POLICY
To secure your reservation a 50% deposit may be paid in advance.
REFUNDS AND CANCELLATIONS FOR CHARTERS ONLY
Cancellations by phone to our office within 72 hours prior to the charter will allow you a full refund. Cancellations by phone to our office within 48 hours prior to the charter date will allow you a 25% refund. Cancellations by phone to our office less than 48 hours prior to the charter will cost you your deposit for the charter. The Cancellation fee will be charged regardless of the reason for cancellation.
NOTE - We charter our buses for private events of all kinds, daytime and evenings. Charters do not include entry into any club. Inquire for special prices for youth, senior and non profit groups transportation.